For our Electrical Products (EP) Digital Sales and Marketing team, we are seeking a dynamic, motivated, and team-oriented professional. If you are looking for an opportunity to develop your analytical skills and learn from industry leading company then this may be the position for you!
What part will you play?
* Working with local and global E-Commerce and Digital Marketing teams to identify the needs of digital sales channels and the journey of end-customers on online platforms
* Responsible for EP Digital Marketing Activities and Budget.
* Driving Digital Sales through creating Lead Generation via various channels and activities (Smart E-mail Marketing Campaigns via Eloqua, DigiOneNow Customer Targeting, Phone Calls if necessary)
* Responsible for Inside Sales activities (Creating Leads via E-Mail, Phone Calls, other digital tools)
* Planning and executing EP social media activities according to the digital marketing strategy
* Working with Product Marketing and Channel Marketing teams to create and execute the digital marketing activities for EP products with a focus on different needs of various customer types.
* Continuously meeting with Siemens partners in order to support their digital marketing and E-Commerce activities and understand needs regarding their digital activities.
* Managing digital marketing activities and sales campaigns of Siemens E-commerce online stores at online marketplaces (Hepsiburada, N11, Trendyol)
* Managing DigiOneNow related marketing plan and improve the Customer Experience of the platform with various marketing activities. Continuously enriching the digital content of DigiOneNow (www.digionenow.com)
* Regularly following online activities of competitors, new online trends and updating digital contents
* Managing and supporting the coordination with Corporate Marketing Department for all digital marketing related topics (Social media, Google, Programmatic Ads Campaigns, etc.)
* Being a Pioneer for Data Analytics of EP digital business, continuously improve the digital customer experience via smart data analysis.
* Controlling and supporting Data Analytics and Marketing Automation Tool activities (i.e. Eloqua, Google / Adobe Analytics, Tableau, Google Tag Manager, Google Ads, Search Console etc.)
* Being familiar with CMS panels
What you need to make real what matters
* University degree in Computer Engineering, Electrical Engineering or related area
* Minimum 2 years of experience in Digital Marketing, E-Commerce, Data Analytics and Social Media Management
* Solid understanding of Digital Marketing and E-Commerce fundamentals.
* Fluent English both written and verbal
* Excellent usage of MS office tools, Digital Marketing Tools.
* Excellent customer understanding, communication and interpersonal skills
* Eager to follow new trends and technologies
What we offer
Speak up Culture
Respectful Workplace
Being part of a global work environment
Remote working and remote living flexibility
Attractive remuneration package
Excellent recognition tools providing spot awards
Learning & Development opportunities for both personal and professional growth
Leave days for parents and a variety of flexible working models that allow time off for yourself and your family
Creche allowance for mothers
Share matching programs to become a shareholder of Siemens AG
Find more benefits here
Individual benefits are adapted to meet local legal regulations, the requirements of different job profiles, locations, and individual preferences.
"At Siemens we are always challenging ourselves to build a better future. We need the most innovative and diverse Digital Minds to develop tomorrow's reality. Find out more about the Digital world of Siemens here: www.siemens.com/careers/digitalminds"
As Siemens we believe physical barriers are not related to potential. Only the potential matters to us. Therefore, we look forward to receive applications of candidates with physical barriers and chronic illnesses. We support healthy relationships between candidates with barriers and their colleagues because we believe we can create differences together.
Siemens is dedicated to quality, equality, and valuating diversity and we welcome applications that reflect the diversity of the communities within which we work.
We are looking forward to receiving your online application. Please ensure you complete all areas of the application form to the best of you ability as we will use the data to review your suitability to the role.
Please find more information from our web site:
https://new.siemens.com/tr/tr.html

Contact
If you need more information please don't hesitate to contact us.
+90 216 459 20 00
https://new.siemens.com/tr/tr/genel/iletisim.html

insanorganizasyon.tr@siemens.com
www.instagram.com/siemensturkiye
https://m.youtube.com/user/Siemens
http://www.twitter.com/siemensturkiye
http://www.facebook.com/siemensturkiye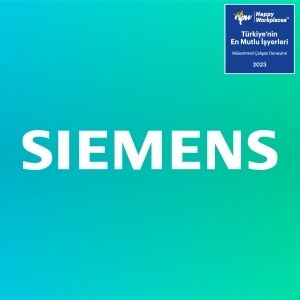 Organization: Smart Infrastructure
Company: Siemens Sanayi ve Ticaret Anonim Sirketi
Experience Level: Experienced Professional
Full / Part time: Full-time