We are accelerating and securing the energy transition sustainably and profitably.
Siemens Smart Infrastructure Grid Software enables grid operators as well as industry and infrastructure companies to accelerate and secure the energy transition in a sustainable and profitable way. We connect the physical and the digital world with an integrated OT and IT landscape along the entire value chain from planning through operations to maintenance – following its design principles of modularity, openness, user-centricity, interoperability, and resilience.
The net zero challenge is driving a fundamental change in energy generation and consumption, with a seven-fold increase in DER installations projected by 2030. This groundbreaking transformation of the energy sector, characterized by a bi-directional power flow from intermittent renewable energy resources and new consumption patterns, results in enormous complexity.
Our bigger purpose? We believe that software is the key to turn these challenges into opportunities.
Are you passionate about creating new possibilities?
In our newly formed fast-growing business, we are looking for people with the skills and vision to build an energy-efficient and decarbonized future to support a more sustainable environment. Join our team, get inspired, and help us re-imagine the world!
Change the world of tomorrow with us.
We seek a professional certified Project Manager with a solid track record of leading external complex large scale Grid Control projects preferably in the utility/energy sector (Transmission and Distribution).
What part will you play?
This position requires the coordination and delivery of multiple, simultaneous SCADA and Grid Control projects of various complexities. Project Manager is responsible for planning, implementing, and finalizing projects according to scope, timeline, and budget. This includes directing resources in a matrixed organization and coordinating the efforts of team members to deliver projects according to plan. The PM will also define the project's objectives, participate in project planning during and after the sales cycle and coordinate quality control throughout its life cycle.
Manage the implementation of customer projects, coordinate internal resources and external partners for the flawless execution of projects,
Develop complete project plans, ensure that project deliverables meet quality standards and are delivered on time, within budget.
Apply Siemens' project process and management principles at all aspects of project scope and deliverables. Ensure project compliance with company policies and procedures.
Monitor and report on project progress to stakeholder, perform risk management to minimize project risks.
Interface with and lead customer facing activities (customer interviews, Q/A sessions, project milestone meetings, design approvals, acceptance procedures) from project start to final acceptance.
Understand the customer's needs and problems and arrange necessary actions to create the appropriate solutions.
Build positive team dynamics and relationships with client staff; remedying dysfunction to maintain healthy and productive relationship with the Client.
Navigate internal team through all phases of project delivery to ensure successful delivery of exceptional technical solutions.
Collaborate with sales and bid management teams and provide support along the lifecycle of business operations
Capture innovations, lessons learned and successes on projects and share them with the wider organization.
What you need to make real what matters
Bachelor's or master's degree in Electrical Engineering, Control Engineering or Computer Science
Excellent understanding with more than 10 years of experience in the energy distribution/transmission market and technologies, mainly in SCADA, IT/OT integration, digitalization with IoT solutions and cyber security
Minimum 8 years of experience in project management with proven track record of timely execution of contracts, within budget and with outstanding customer satisfaction.
Project Management certification (e.g. PM@Siemens, PMP, IPMA)
Excellent communication and collaboration skills are essential, ability to discuss problems in a constructive way with your team
Excellent organizational skills and ability to handle leading multiple projects with multiple teams simultaneously.
Demonstrated negotiation skills, conflict management, problem-solving and analytical skills, and accountability.
Ability to take a high-level view as well as diving into the detail when needed to support your team
Solid knowledge of Agile Delivery methodologies and experience delivering projects in Agile approach will be highly regarded.
Fluent in English and self-confident in communication and presentation and ready to travel the world.
Advanced application knowledge of Siemens Spectrum Power will be a plus
At Siemens, we are committed to an ownership culture, in which every employee takes personal responsibility for our company's success. We utilize lean principles and seek to continually improve our processes and customers' experience.
Make your mark in our exciting world at Siemens.
What we offer
Speak up Culture
Respectful Workplace
Being part of a global work environment
Remote working and remote living flexibility
Attractive remuneration package
Excellent recognition tools providing spot awards
Learning & Development opportunities for both personal and professional growth
Leave days for parents and a variety of flexible working models that allow time off for yourself and your family
Creche allowance for mothers
Share matching programs to become a shareholder of Siemens AG
Find more benefits here
Individual benefits are adapted to meet local legal regulations, the requirements of different job profiles, locations, and individual preferences.
"At Siemens we are always challenging ourselves to build a better future. We need the most innovative and diverse Digital Minds to develop tomorrow's reality. Find out more about the Digital world of Siemens here: www.siemens.com/careers/digitalminds"
As Siemens we believe physical barriers are not related to potential. Only the potential matters to us. Therefore, we look forward to receive applications of candidates with physical barriers and chronic illnesses. We support healthy relationships between candidates with barriers and their colleagues because we believe we can create differences together.
Siemens is dedicated to quality, equality, and valuating diversity and we welcome applications that reflect the diversity of the communities within which we work.
We are looking forward to receiving your online application. Please ensure you complete all areas of the application form to the best of you ability as we will use the data to review your suitability to the role.
Please find more information from our web site:
https://new.siemens.com/tr/tr.html

Contact
If you need more information please don't hesitate to contact us.
+90 216 459 20 00
https://new.siemens.com/tr/tr/genel/iletisim.html

insanorganizasyon.tr@siemens.com
www.instagram.com/siemensturkiye
https://m.youtube.com/user/Siemens
http://www.twitter.com/siemensturkiye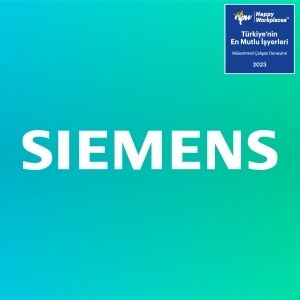 Organization: Smart Infrastructure
Company: Siemens Sanayi ve Ticaret Anonim Sirketi
Experience Level: Experienced Professional
Full / Part time: Full-time