We are the catalyst for the industrial world's digital transformation.
For more than 35 years, ground breaking technologies and business models engineered and developed by Siemens Turkey R&D department contributes to the global success of Siemens
Our R&D activities focused on the fields of electrification, automation and digitalization, provides end-to-end support to our global customers on their unique digital transformation journey.
We aim to increase our strength on solution and product development with world class SW development experts, with the vision to be the digitalization partner for our global customers.
We need game changers like you, to bring the next level of smart manufacturing and infrastructure from mere concept to reality, develop tomorrow's smart cities, and address the most critical digitalization challenges across a comprehensive range of industries.
Detailed design, implementation, documentation, and unit testing
Deliver committed work packages within the planned time, effort, and quality
Conduct reviews for design, code, module test, and documents
Adapt code to changing requirements and correct defects
Conform to Siemens processes, quality standards, and guidelines
What you need to make real what matters.
BSc., MSc. or PhD. in Computer Science or a related area is a must
8+ years of experience in Software Engineering is a must
A strong understanding of object-oriented programming and design patterns is a must
Experience in Java programming language is a must
Experience in backend development (Spring, Spring Boot) is a must
Experience in NoSQL and Relational Databases are a must
Experience in UI technologies ( Angular, React ) is a must
Experience in Amazon Web Services is a plus
Experience in microservice architecture is a big plus
Experience in designing and bulding REST API is a big plus
Experience in Go and PYTHON is a plus
Experience in Docker or Kubernetes is a plus
Understanding of emerging IoT technologies is a plus
Having an agile Mindset and DevOps Culture is a big plus
Very good command of English is a must
Having strong communication and negotiation skills are a must
What else do I need to know?
No restriction for traveling
What we offer
· Speak up Culture
· Respectful Workplace
· Being part of a global work environment
· Remote working and remote living flexibility
· Attractive remuneration package
· Excellent recognition tools providing spot awards
· Learning & Development opportunities for both personal and professional growth
· Leave days for parents and a variety of flexible working models that allow time off for yourself and your family
· Creche allowance for mothers
· Share matching programs to become a shareholder of Siemens AG
· Find more benefits here
Individual benefits are adapted to meet local legal regulations, the requirements of different job profiles, locations, and individual preferences.
"At Siemens we are always challenging ourselves to build a better future. We need the most innovative and diverse Digital Minds to develop tomorrow's reality. Find out more about the Digital world of Siemens here: www.siemens.com/careers/digitalminds"
As Siemens we believe physical barriers are not related to potential. Only the potential matters to us. Therefore, we look forward to receive applications of candidates with physical barriers and chronic illnesses. We support healthy relationships between candidates with barriers and their colleagues because we believe we can create differences together.
Siemens is dedicated to quality, equality, and valuating diversity and we welcome applications that reflect the diversity of the communities within which we work.
We are looking forward to receiving your online application. Please ensure you complete all areas of the application form to the best of you ability as we will use the data to review your suitability to the role.
Please find more information from our web site:
https://new.siemens.com/tr/tr.html

Contact
If you need more information please don't hesitate to contact us.
+90 216 459 20 00
https://new.siemens.com/tr/tr/genel/iletisim.html

insanorganizasyon.tr@siemens.com
www.instagram.com/siemensturkiye
https://m.youtube.com/user/Siemens
http://www.twitter.com/siemensturkiye
http://www.facebook.com/siemensturkiye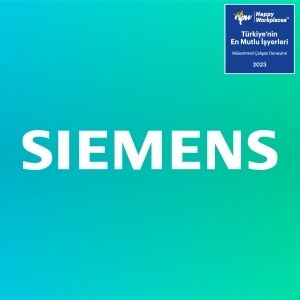 Organization: Advanta
Company: Siemens Sanayi ve Ticaret Anonim Sirketi
Experience Level: Mid-level Professional
Full / Part time: Full-time