We are seeking an enthusiastic Service Operations Team Leader for Siemens Large Drives Motor ve Sürücü Teknolojileri A.Ş., who will be located in Istanbul and coordinates general Service-related activities performed by a team of professionals for Medium Voltage Drives.
Siemens Large Drives stands worldwide for future-proof drive technology, automation technology, industrial software and services based on innovative technology platforms. What we offer you is the chance to really make a difference. Take the next step in your career with us. Get exciting insights into Siemens Large Drives' portfolio.
What part will you play?
· Coordinates general Service-related activities performed by a team of professionals and controls execution according to the organizational guidelines
· Leads and/or coordinates a group of dedicated qualified professionals locally to achieve the targets set
· Implements internal rules and regulations. Ensures adherence to public and regional standards and regulations
· Leads and actively works with professional team by example, be a mentor in accordance EHS rules and zero harm culture
· Carry out technical trainings for own team and in customer premises for products/systems
· Perform specific commissioning jobs, critical fault intervention/elimination for Medium Voltage Drives
· Track warranty cases with factories. Acts as first level escalation instance
· Close coordination and communication with other service operations and sales teams to ensure customer satisfaction
· Leads and performs commissioning of SIDRIVE IQ systems- a holistic solution and service to the Industrial Internet of Things (IIoT) for MV Drives and HV Motors
· Carry out retrofit projects including communication with the customers for the required preparations, organizing needed resources and commissioning of the drive systems
· Close follow up of new developments in product portfolio and improve own team technical application skills to perform services for new products
· Work in close cooperation with sales teams to ensure effective lead generation for new product, retrofit and service sales (service & maintenance contracts, spare parts, digital services and condition monitoring contracts etc.)
· Give constructive feedback to professionals and sales teams to increase process quality and customer satisfaction
· Keep building relationships and networking with key players in customers
What you need to make real what matters.
· Bachelor's degree in Electrical Engineering or Electrical&Electronics Engineering with power systems background
Team leading experience with strong people management skills and the ability to meet critical targets and deadlines
· Minimum 7 years of experience in VFD service teams of related product suppliers
· Very good knowledge in Power Electronics, Electrical Motors & Drives. Basic knowledge in MV Switchgear systems
· Analytical thinking, decision making, change orientation and good communication skills
· Ability to meet demanding schedule requirements without compromising quality and EHS
· Languages: must be fluent in spoken and written Turkish & English
What we offer
Speak up Culture
Respectful Workplace
Being part of a global work environment
Remote working and remote living flexibility
Attractive remuneration package
Excellent recognition tools providing spot awards
Learning & Development opportunities for both personal and professional growth
Leave days for parents and a variety of flexible working models that allow time off for yourself and your family
Creche allowance for mothers
Share matching programs to become a shareholder of Siemens AG
Find more benefits here
Individual benefits are adapted to meet local legal regulations, the requirements of different job profiles, locations, and individual preferences.
"At Siemens we are always challenging ourselves to build a better future. We need the most innovative and diverse Digital Minds to develop tomorrow's reality. Find out more about the Digital world of Siemens here: www.siemens.com/careers/digitalminds"
As Siemens we believe physical barriers are not related to potential. Only the potential matters to us. Therefore, we look forward to receive applications of candidates with physical barriers and chronic illnesses. We support healthy relationships between candidates with barriers and their colleagues because we believe we can create differences together.
Siemens is dedicated to quality, equality, and valuating diversity and we welcome applications that reflect the diversity of the communities within which we work.
We are looking forward to receiving your online application. Please ensure you complete all areas of the application form to the best of you ability as we will use the data to review your suitability to the role.
Please find more information from our web site:
https://new.siemens.com/tr/tr.html

Contact
If you need more information please don't hesitate to contact us.
+90 216 459 20 00
https://new.siemens.com/tr/tr/genel/iletisim.html

insanorganizasyon.tr@siemens.com
www.instagram.com/siemensturkiye
https://m.youtube.com/user/Siemens
http://www.twitter.com/siemensturkiye
http://www.facebook.com/siemensturkiye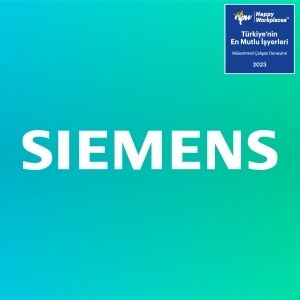 Organization: Portfolio Companies
Company: Siemens Large Drives Motor ve Sueruecue Teknolojileri A.S.
Experience Level: Experienced Professional
Full / Part time: Full-time